Our organization has provided leadership in raising awareness of the impacts of aquatic invasive species (AIS) on our lakes. We helped construct the BAISS boat used today to remove Eurasian water-milfoil (EWM) and curly-leaf pondweed (CLP) from area lakes. After EWM was first discovered in Tomahawk and Sand Bar lakes in the fall of 2004, we encouraged the Town of Barnes to create a standing committee to address AIS issues on area lakes. Today we continue to provide financial support to the Town of Barnes to help with AIS remediation efforts including Clean Boats Clean Waters, Shoreline Monitoring and the BAISS boat.
The Town of Barnes AIS Committee initiated EWM surveys of 3 area lakes:
In 2022, the Town published three brochures tailored to specific lakes, showing which invasive(s) are present in the lakes and where they have been found. It's important for boaters to be aware of these areas so special care can be taken to not motor through patches and contribute to their spread. Plant identification is also included so boaters can report additional sightings to boat landing monitors or the Barnes Town Office. You can download the brochures here:
  Water Body

Aquatic Invasive Species Found (Source:  WDNR)


  Eau Claire River (Bayfield)

Banded Mystery Snail

Curly-Leaf Pondweed

Purple Loosestrife

  Eau Claire River (Douglas)

Banded Mystery Snail

Rusty Crayfish

Purple Loosestrife

  Cranberry Lake

Eurasian Water-Milfoil

  George Lake

Freshwater Jellyfish

  Lower Eau Claire Lake

Banded Mystery Snail

Purple Loosestrife

Rusty Crayfish

  Middle Eau Claire Lake

Banded Mystery Snail

Curly-Leaf Pondweed

Narrow-leaf cattail

Rusty Crayfish

  Robinson Lake

Banded Mystery Snail

  Sand Bar Lake

Eurasian Water-Milfoil

  Simms Lake

Rusty Crayfish


  Tomahawk Lake

Banded Mystery Snail

Eurasian Water-Milfoil

  Upper Eau Claire Lake

Chinese Mystery Snail

Curly-Leaf Pondweed

Rusty Crayfish
Eurasian water-milfoil (Myriophyllum spicatum)
Found in nearly 400 Wisconsin lakes, EWM is an emergent plant that usually extends 3 to 10 feet, but can reach as much as 33 feet in length. The stems are reddish-brown to whitish-pink. It forms dense mats on the surface of water bodies, and new plants that may emerge from each node on a stem can root on contact with mud. Regenerates mostly from rhizomes, fragmented stems, and axillary buds that develop throughout the year.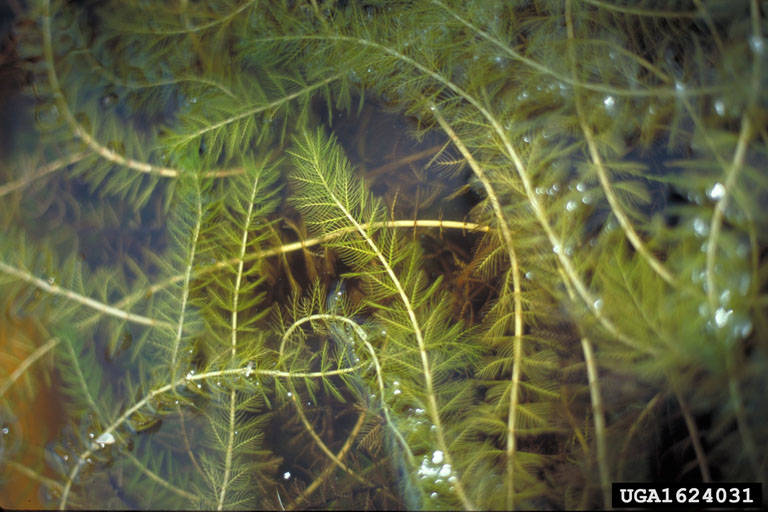 EWM can be treated with herbicides in the spring during early stages of active growth and to reduce the effects on native plants. An aquatic applicator license is usually required.  Hand-pulling is an effective strategy for small populations of plants. Care must be taken to remove all pieces of the plant, because even small fragments can survive and re-root. EWM can also be treated by stocking the native milfoil weevil. The weevils feed on the plants, and the larvae burrow into the stems. They do not eat other types of plants, and reduce the vigor of the milfoil population. (Source: WDNR)
In our lakes, hand-pulling is the preferred removal method.
Curly-leaf pondweed (Potamogeton crispus)
In some lakes, CLP behaves as another member of the aquatic plant community, but in others it can become more aggressive, colonizing large areas. CLP has a unique life cycle. It begins growing under the ice in winter and by early spring has a competitive advantage over still-dormant native species. CLP typically dies off in late June/early July, and its decomposing tissue releases phosphorus into the warm water. The timing of this phosphorus release can help to enhance algal blooms.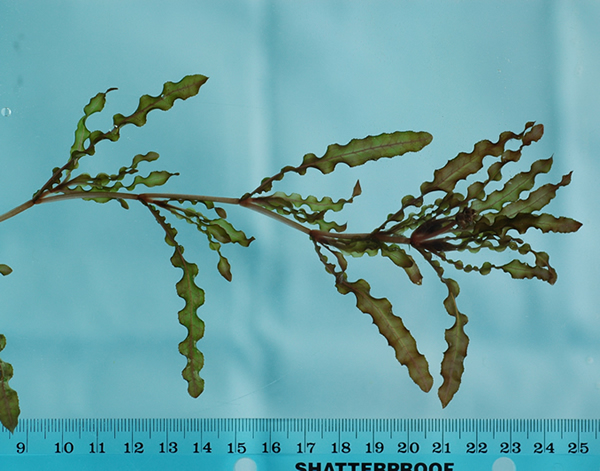 Purple loosestrife (Lythrum salicaria)
Purple loosestrife is a wetland perennial, 3'-7' tall, with up to 50 stems topped with purple flower spikes. Clipped plants grow back, and cut stems readily re-root in soil to produce new plants. Many areas of the state use safe biocontrol beetles that feed on the loosestrife to keep it in check and allow other plants to grow. (Source: WDNR)
Here in the Eau Claire Lakes area, purple loosestrife has been treated with beetles repeatedly in the channel between Cranberry Lake and Lower Eau Claire Lake; in 2019, a single plant was found growing next to a culvert off Fowler's Circle in the wetland on Mooney Bay (Lower Eau Claire Lake).
The Town of Barnes AIS Committee coordinates an Invasive Species Shoreline Monitoring program, training volunteers who survey segments of shoreline at least once/month from May through September. For more information, contact Ingemar Ekstrom at 715-795-2183 or ije@cheqnet.net.