The Town of Barnes AIS Committee oversees several efforts to control the spread of aquatic invasive species on our lakes. ALL of these projects need volunteers. If you are interested in learning more about how you can help, please use our contact form and we can help connect you with the project coordinators.
Barnes Aquatic Invasive Species Suction (BAISS) Boat
The BAISS boat was a collaboration between our organization and the Town of Barnes AIS Committee.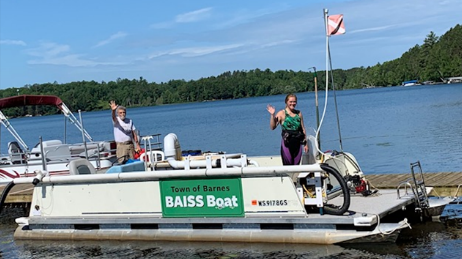 Designed and built in 2016 by numerous volunteers under the leadership of Rick Mattila, Gerald "Gus" Gustafson and Lee Wiesner, more than 450 hours of work went into the modifications to the pontoon boat donated by the Ingemar Ekstrom family. With help from a DNR grant, the BAISS boat was completed and quickly put to use. In its first summer, more than thirty 55-gallon bags of curly-leaf pondweed were harvested from Middle Eau Claire Lake. Today, the BAISS boat is used to harvest curly-leaf pondweed and Eurasian water-milfoil from area lakes.
In 2017, the Town of Barnes AIS Committee and our organization jointly received a DNR Invader Crusader Award for our collaboration on the BAISS boat and for our Lake Ecology Education Program (LEEP).
Few communities in the state of Wisconsin own this type of harvester. It provides our residents with a resource to remove invasive species before they become widespread. For a glimpse into a day on the water with the BAISS boat and crew, click here.
Shoreline Monitoring
In 2016, the Shoreline Monitoring program coordinated by the Town of Barnes AIS Committee had 62 volunteers monitoring 27 lakes in the Barnes area for introductions of new invasive species. This group of volunteers logged  hundreds of hours.
Pictured is Purple Loosestrife, an invasive plant found in the southern portion of the Eau Claire chain of lakes. Once identified, steps were taken to eradicate it. Additional plants were found in 2019 and continued vigilance will be needed to prevent it from becoming widespread.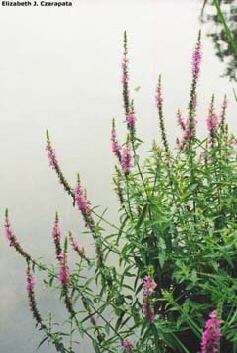 Clean Boats Clean Waters (CBCW) Boat Landing Monitoring
The WDNR's Clean Boats Clean Waters program is all about keeping our lakes clean for the present and future. The Town of Barnes was awarded a grant from the WDNR that requires in-kind match, so volunteers are critically important. At least 200 hours of monitoring is required at each of the boat landings at Tomahawk, Robinson, Upper Eau Claire, Middle Eau Claire and Lower Eau Claire lakes.
In 2019, monitors were paid for 1,711 hours; another 396 hours were contributed by volunteers. Monitors talked with 8,337 people on 2,070 boats entering the lakes and 1,579 boats leaving the lakes. This work is critical as lake users have reported they enjoy spending their days traveling from lake to lake to sample the fishing, and the transport of aquatic invasive species between lakes is made more likely by this activity.
The local CBCW Coordinator notes that more volunteers are needed and you don't need to live on a lake to volunteer. It's a good way for teenagers to get volunteer hours for their college applications and help them learn more about lake ecology.