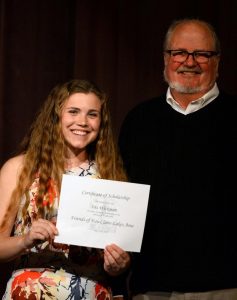 Friends of the Eau Claire Lakes Area is pleased to announce Iris Wichman is the recipient of its first annual student scholarship. Ms. Wichman, a 2019 graduate of Drummond Area High School, will pursue a degree in environmental studies at UW-Barron County this fall. FOECLA board member Martin Olson presented Ms. Wichman with her $1,000 scholarship at the school's Senior Scholarship Night on May 15.
"We created this scholarship to assist students who wish to enter any field of study that would promote our mission to protect and improve lakes, rivers, forests and wildlife resources," said Kevin Shriver, FOECLA board president. "Now more than ever we need to support young adults like Iris who care about the environment."
FOECLA also partners with the Drummond Area School District in providing a unique educational program for seventh grade students. The "Lake Ecology Education Program for Youth" (LEEP) provides students with classroom lessons and field experiences designed to prepare them for becoming life-long lake stewards. The curriculum meets Wisconsin education standards. "Creating this annual scholarship underscores our commitment to the education of our youth," noted Shriver. "We are very happy to put our resources to such good use, and we congratulate Iris on her award."
In addition to supporting the education of our youth, FOECLA also supports the following important programs:
Town of Barnes AIS Committee – We provide financial support to the Town in its efforts to control the spread of aquatic invasive species, and we refer volunteers interested in monitoring their shorelines for invasive species.
WDNR Citizen Lake Monitoring Network – This spring, we provided funding to purchase new water testing equipment for citizen monitors to use on area lakes. We also refer individuals interested in this program.
Town of Barnes Clean Boats Clean Waters – We provide funding to support the hiring of monitors at boat landings who inspect boats and educate boaters on "aquatic hitchhikers", and we refer individuals interested in becoming boat landing monitors.
Town of Barnes Vatten Paddlar – We sponsor this annual race that highlights the beauty of our lakes. We also refer individuals interested in volunteering for the race.
Annual Education Program – Every August, we host an educational program for the community at the Barnes Town Hall.
We couldn't do any of this without the support of our members! If you aren't yet a member, please consider joining or renewing today.